Choosing the right roofing contractor for your home is a crucial decision. A wrong pick can lead to poor workmanship, delays and financial setbacks. Your roof isn't just about curb appeal; it's a vital part of your home that keeps your family safe from the elements. So, when the time comes for a roof replacement, you'll want to be sure you're entrusting this important job to the right hands. In this guide, we've outlined seven essential tips to help you select the ideal roofing contractor in OKC, ensuring you get the best quality, service and peace of mind.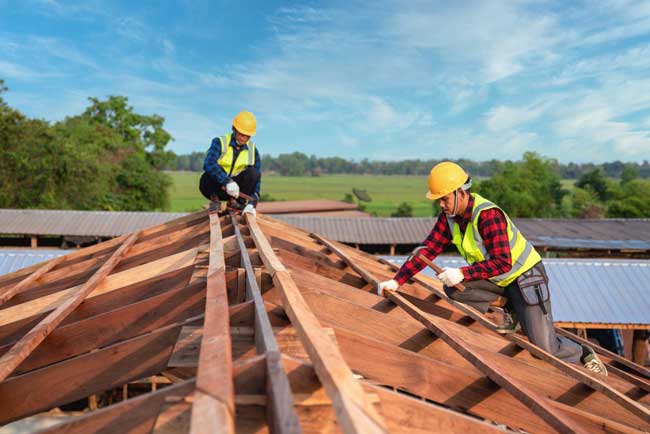 The Importance of Scanning the Digital Universe
In today's digital age, online reviews are a significant barometer of a contractor's credibility and work quality. Do your due diligence by scouring multiple platforms like Google, Yelp and specialized contractor review sites. Look for reviews that specifically discuss the contractor's expertise in roof inspection, particularly in the OKC area. A varied range of reviews, rather than extremes, offers a more balanced insight into the contractor's overall performance and customer satisfaction.
Opt for Goldilocks Pricing: Finding the Sweet Spot
Cost is undoubtedly a major factor when hiring a contractor, but it should never be the sole deciding factor. Suspiciously low quotes often lead to substandard work, while high-end quotes don't always guarantee top-notch results. The trick is to find a contractor whose pricing is neither too high nor too low but sits squarely in the average range for roof replacement in OKC. Always request multiple quotes and evaluate them against the services offered to ensure you make sound financial decisions.
Why a Crystal-Clear Written Estimate is Non-Negotiable
A comprehensive written estimate is more than a formality; it's your roadmap to understanding the project's financial implications. An estimate should include every aspect of the job—from labor costs to materials and potential extra costs like permits or waste removal. This detailed estimate gives you an idea of what to expect and provides you with a contractual safeguard against unforeseen costs. Never proceed with any roof replacement without one.
Secure Your Investment with Rock-Solid Warranties
Your roof is a long-term investment, and the warranty should reflect that. While some warranties only cover the materials, comprehensive ones include labor and workmanship. Ensure you fully understand the scope and duration of the warranty before deciding to get a total roof replacement. When choosing between two similarly qualified contractors, a strong warranty can be the tiebreaker.
Freelancer vs. Established Company for Roof Replacement
Choosing between an independent contractor and an established roofing company depends on your specific needs and preferences. Freelancers may offer a personalized touch and lower rates but might lack a larger company's broad expertise and resources. Larger companies, on the other hand, usually provide comprehensive services and can handle larger projects with greater speed and efficiency.
Evaluate Communication and Customer Service
Effective communication is crucial when working on something as important as your home. Pay attention to how promptly a contractor responds to your queries and concerns. Their level of professionalism in communication often indicates their approach to work. Choose a roofing contractor who is attentive, transparent and easy to communicate with, ensuring a smoother project from start to finish.
Confirm Licensing and Insurance
Last but certainly not least, pay attention to the contractor's credentials. Confirm that they are fully licensed to operate in OKC and have valid insurance. Licensing assures you of their legitimacy and adherence to building codes, while insurance protects you from liability in case of accidents or property damage during the project.
Ready to Turn Your Roofing Dreams Into Reality?
Don't just dream about a sturdy, beautiful roof—make it happen with Hardworking Roofing and Construction! We specialize in delivering top-notch roof inspections in OKC that exceed your expectations. Isn't it time you gave your home the quality roofing it deserves? Reach out to us today, and let us bring your vision to life!