Other Services
Your One-Stop Shop for Home Improvement
When you choose Hardworking Roofing and Construction, you're not just getting an exceptional roofing contractor. Whether you're in need of construction, siding, windows, remodeling, gutters, water damage restoration, painting, or fencing, our team is here to make your vision a reality. Our experienced team takes pride in delivering personalized solutions to enhance your home or business, always focusing on your needs and budget.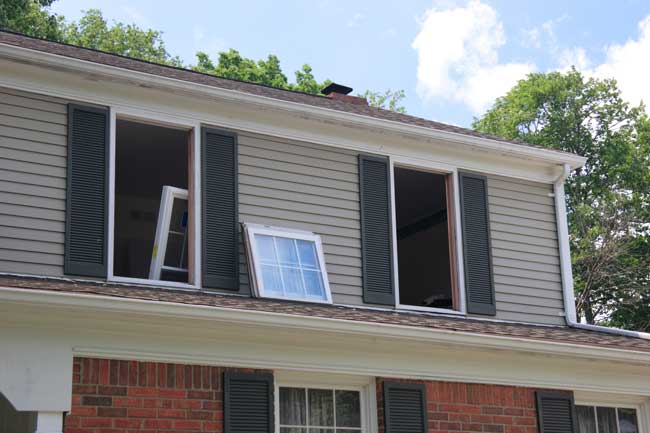 Construction
Enhance Your Space with Quality Construction
Hardworking Roofing and Construction excels in construction services, offering both commercial and residential solutions. Whether it's an addition to your home or a complete renovation, we're here to bring your vision to life. Our skilled team is your partner for quality craftsmanship and personalized recommendations, ensuring your property is improved in all the right ways.
Siding
Elevate Your Home's Exterior with Stunning Siding
Siding plays a crucial role in the aesthetics and protection of your property. Hardworking is ready to repair, replace, or install siding, with a variety of materials and styles to choose from. We ensure your siding is properly insulated and weather-resistant, providing lasting beauty and energy efficiency. Trust us to enhance your property's value and appearance.
Windows
Expert Window Solutions for Your Comfort
Hardworking Roofing and Construction is a true expert when it comes to windows. We offer a comprehensive range of window installation services, including replacement windows, storm windows, and energy-efficient options. Our team works closely with you to understand your needs and provides tailored window solutions for optimal comfort and energy efficiency.
Gutters
Protect Your Property with Quality Gutters
Protect your home's foundation and prevent water damage with our gutter services. We offer gutter installation, regular maintenance, and efficient repair solutions. Choose from a range of gutter materials, such as aluminum, copper, and steel, to ensure proper water drainage and long-lasting performance.
Remodeling
Revitalize Your Living Spaces
Our remodeling services encompass everything from bathroom makeovers to complete home transformations. Choose your preferred fixtures, countertops, and cabinetry to create the kitchen or bathroom of your dreams. Let our team breathe new life into your space.
Water Damage
Address Water Damage with Comprehensive Solutions
Don't let water damage wreak havoc on your property. Our comprehensive water damage restoration services address the root cause of the problem, whether it's a leaky roof or a plumbing issue. With state-of-the-art equipment and techniques, we locate and repair the damage, protecting your home or business from further harm. From the initial inspection to the final walk-through, our reliable team keeps you informed every step of the way, ensuring peace of mind.
Painting
Enhance Your Property's Aesthetic Appeal
The exterior of your property is the first thing people notice, and we understand the importance of making a good impression. Hardworking offers a variety of colors and finishes that protect your property while enhancing its aesthetic appeal. We listen to your needs and desires to develop a unique painting solution that meets your specific requirements.
Fencing
Enhance Security and Curb Appeal with Quality Fencing
Define your property, boost privacy, and improve security with our fence installation services. We offer various fencing options, from classic wood and vinyl to modern aluminum and wrought iron. Each material has unique benefits, and we'll help you select the right one for your property. Whether you seek security or private outdoor space, our high-quality materials ensure your fence is strong, durable, and long-lasting.
Schedule a Consultation Today.
From the ground up to the finishing touches, our diverse range of services is designed to transform your home into your dream space. Take the first step towards enhancing your property's appearance, functionality, and value. Contact Hardworking Roofing and Construction today to explore our construction and home improvement services and enhance your property. Your home or business deserves the best, and we're here to deliver it.