Your living room walls have been flaunting that vanilla shade for years, and you're craving an overhaul. The clock is ticking, and the time for a fabulous transformation is now. The interior paint color trends for 2023 are bursting with a variety of shades, rich in emotion and personality. For those looking to spruce up their OKC homes, house painting this year offers a plethora of stunning options. Allow your walls to become the canvas of contemporary aesthetics and personal expression.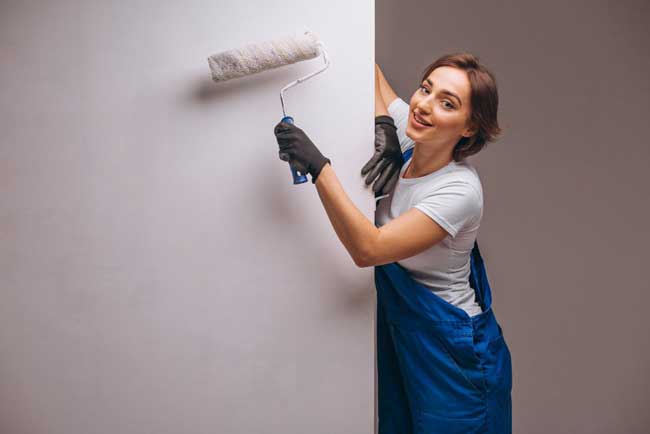 Your Ultimate Guide to 2023's Show-Stopping House Painting
If you thought house paint was just a backdrop, think again. This year, the emphasis is on vibrant and deep shades that bring rooms to life, creating an ambiance that resonates with your unique style.
Redend Point: As a color imbued with depth and elegance, Redend Point effortlessly infuses a sense of warmth and sophistication into any space. Picture your den wrapped in this luxurious hue.
Viva Magenta: For those who are unafraid of making a statement, Viva Magenta offers an infusion of vigor and personality. Its audacious undertones can redefine your living room or kitchen.
Spanish Moss: A subtly elegant color, Spanish Moss brings with it a calming energy, ideal for areas where you seek peace and relaxation—perhaps a bedroom or a secluded study.
Raspberry Blush: Radiant yet soft, Raspberry Blush invites a touch of playfulness into your environment. Its delicate hue lights up rooms with a youthful spirit.
Terra Rosa: Channel the beauty of the great outdoors. Terra Rosa captivates with its robust, earthy tones, perfect for creating a rooted, grounded feel in your family room.
Canyon Ridge: This mesmerizing color falls somewhere between audacious and restrained. Canyon Ridge brings a certain atmospheric richness that speaks to those who appreciate nuanced design.
Blank Canvas: For proponents of clean, minimalist style, Blank Canvas offers a literal and metaphorical space where you can explore other décor elements with freedom.
Vining Ivy: This lush, greenish hue beckons the charm of an untamed garden. Vining Ivy is particularly suited for accent walls where you want to introduce a breath of fresh air.
Rustic Greige: Melding the best qualities of gray and beige, it sets the stage for a balanced, modern space that soothes as much as intrigues.
The Insta-Effect: How Social Media is Shaping Color Choices
The way we pick our paints is undergoing a digital revolution. Instagram and Pinterest aren't just for food pics and DIY crafts; they're becoming trendsetters in home décor. Captivating colors and unique combinations are garnering likes and shares, influencing homeowners to adopt similar palettes.
The Inner You: What Choosing a Certain Shade Reveals
Color choices can be deeply personal and, more often than not, reflect something about your own character. Earthy, mature hues like Terra Rosa indicate a grounded personality. In contrast, splashy, lively colors like Viva Magenta suggest an extroverted and energetic nature.
The Comforting Aura of Warm, Subdued Shades
When it comes to house painting, subdued, warm shades continue to charm homeowners. Think creamy yellows and soft apricots that wrap the room in an inviting embrace, perfect for casual, cozy gatherings.
Invoking Tranquility with Soft, Cool Tones
There's a gentle beauty in soft, cool shades such as lilac or sky blue. These colors have a cooling, calming effect that can transform busy spaces into sanctuaries of relaxation.
Striking a Rich Note with Jewel Tones
Vibrant and deeply saturated jewel tones like amethyst and topaz have an undeniably opulent impact. Their vividness brings an element of drama and luxury to your home.
The Understated Elegance of Neutrals
Neutral tones aren't just a default option. Colors like soft beige or muted grays offer a timeless, classic look that can serve as a sophisticated canvas for other décor elements.
The Future is Colorful
This year, house painting options span a gamut of emotions and styles, offering a colorful tapestry of choices for the discerning homeowner. From striking, bold shades to comforting, muted hues, the perfect palette awaits your selection.
Transform Your Home Today with a Fresh Coat of Paint
Ready to breathe new life into your interiors? Hardworking Roofing and Construction is your go-to expert for top-quality house painting in OKC. Don't miss out on the vibrant hues and calming shades of 2023. Schedule your consultation now and make your home a masterpiece of modern design.