Are you feeling overwhelmed about getting a new roof for your home? You're not alone. Replacing your roof is a big decision that comes with its own set of challenges. From understanding the steps to figuring out how long it'll take, navigating through a maze can feel complicated. But don't worry, we've got you covered! In this article, we'll break down the entire process of roof replacement in OKC into easy-to-understand sections. You'll learn what happens at each stage, how much time to budget and what you can do to make the process go smoothly. Let's dive in!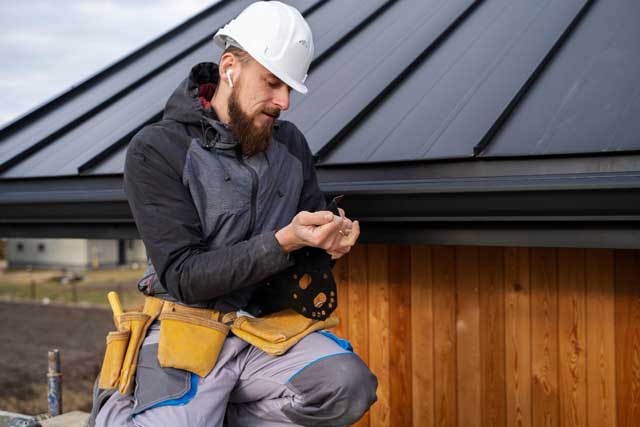 A Comprehensive Guide to Your Roofing Journey
So, what does the residential roof replacement process involve? Most people think it's straightforward to rip off the old shingles and lay down the new ones. However, it's more intricate than that.
Pre-Installation Planning: You decide on the materials you'll use and your budget. You'll also secure any permits you'll need for the project.
Site Preparation: Before the roof replacement starts, your yard will be prepared to make it conducive to the work. That usually involves placing protective sheets and perhaps moving outdoor furniture.
Old Roof Removal: Your existing roof will be carefully removed, ensuring no structural elements are compromised.
Inspection & Repairs: The next step is to inspect the underlying wood and other structural components. Any necessary repairs will be done at this stage.
Installing New Roof: Finally, your new roof will be installed. That involves laying down underlayment and the shingles, tiles or other materials you've chosen.
Cleanup and Final Inspection: Once the installation is complete, the area will be cleaned up and a final inspection will be conducted to ensure quality.
Time Is of the Essence: Duration of a Roof Replacement Project
How long can you expect the roof replacement project to last? There's no one-size-fits-all answer, as the duration depends on various factors like weather, the size of your home and the materials you've chosen. However, the project can take anywhere from a few days to two weeks for a standard replacement.
It's essential to plan your schedule accordingly and accommodate possible delays due to unexpected challenges or weather conditions.
How to Find the Best Roofer
Choosing the right roofing professional is essential for a successful roof replacement. Here are some key tips to help you find the best roofer for your project:
Ask for Recommendations: Seek referrals from friends, family, or neighbors who have recently had their roofs replaced. Personal experiences can provide valuable insights.
Check Credentials: Verify that the roofer is licensed and insured. This ensures they meet the necessary standards and can protect you in case of accidents.
Read Reviews: Look for online reviews and testimonials from previous clients. Assess the roofer's reputation and track record.
Request Multiple Quotes: Obtain quotes from several roofing companies. Compare pricing, materials, and timelines to make an informed decision.
Visit Past Projects: If possible, visit homes where the roofer has previously worked. This allows you to see their craftsmanship firsthand.
Inquire About Warranties: Ask about warranties for both materials and workmanship. A reputable roofer should stand behind their work.
Communication Matters: Gauge the roofer's communication skills. Effective communication is vital for a smooth project.
Ready to Transform Your Roof?
Has all this information about roof replacement got you thinking about your home's needs? Trust Hardworking Roofing and Construction to make your vision come to life. With expert guidance, premium materials and a commitment to excellence, we turn the daunting task of roof replacement into a smooth, stress-free experience. Ready for a durable, beautiful roof that will stand the test of time? Transform your home, one shingle at a time.