When it comes to safeguarding your most significant investment, your home, every decision you make matters. One decision that should never be taken lightly is choosing the right roofing contractor for your roof replacement project in OKC. It's a decision that holds the key to your roof's longevity, durability, and safety. This article delves into the critical importance of hiring a licensed, insured, and bonded roofer, exploring qualifications and knowledge, legal permissions, insurance coverage, and two additional pivotal factors that often go overlooked.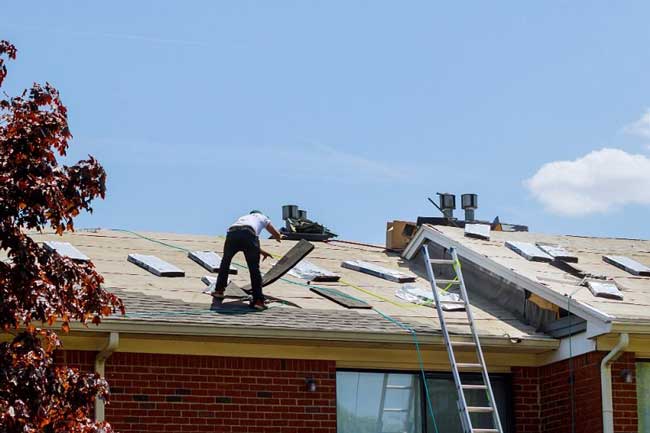 Qualification and Knowledge: The Cornerstone of Expertise
When considering roof replacement, the qualifications and knowledge of your chosen roofer are paramount. A licensed roofer has undergone rigorous training and possesses the necessary skills to tackle a wide range of roofing challenges. They are well-versed in the latest roofing technologies and materials, ensuring that your roof replacement is executed with precision and craftsmanship. This knowledge extends to understanding the unique climate conditions in OKC, allowing them to recommend the most suitable roofing materials that can withstand the local weather patterns. With a licensed roofer, you're not just getting a contractor; you're getting a roofing partner with a deep understanding of the intricacies of keeping your home safe and comfortable.
Legal Permission: Peace of Mind and Compliance
Hiring a licensed roofer also means working with a professional who complies with all local and state regulations. They have the legal permits required to perform roofing work in OKC, ensuring that your project adheres to the codes and standards set by the authorities. This compliance offers you peace of mind, knowing that your roof replacement is in safe hands and in full accordance with the law. It eliminates the risk of running into legal issues or disputes down the road, allowing you to focus on enjoying the benefits of your new roof without any unnecessary concerns about regulatory matters.
Insurance: Protection Against the Unforeseen during Roof Replacement
Roof replacements have inherent risks, including accidents and damage to your property. When you hire an insured roofer, you shield yourself from these unforeseen circumstances. In the unfortunate event of an accident or property damage during the project, their insurance coverage ensures you are not held financially responsible. This protection extends to you and your home, offering a safety net that few other contractors can provide. It's a testament to their commitment to their craft and your satisfaction. With an insured roofer, you can confidently move forward with your roof replacement project in OKC, knowing that unexpected situations are handled without adding stress to the process.
Timely Completion: Avoiding Unnecessary Delays
One often underestimated advantage of hiring a licensed, insured, and bonded roofer is their commitment to timely project completion. These professionals understand the value of your time and the importance of sticking to schedules. Timely completion minimizes disruptions to your daily life and ensures that your home remains protected from the elements. Whether it's a roof replacement or repair, a professional roofer's dedication to meeting deadlines guarantees that your work stays on track. Say goodbye to unnecessary delays and hello to a more efficient and predictable roofing experience.
Quality Materials and Workmanship: A Long-Term Investment
Licensed roofers have access to high-quality roofing materials, and they know which ones are best suited for the specific climate in OKC. When you choose a licensed roofer, you're not just getting a roof; you're making a long-term investment in the protection and value of your home. These professionals know how to select materials that can withstand the harsh Oklahoma weather, ensuring your roof's longevity and durability. Moreover, their superior workmanship guarantees that these materials are installed with precision, minimizing the risk of future issues.
Transform Your Roof with Hardworking Roofing
Are you ready to elevate your roofing experience? Look no further than Hardworking Roofing and Contractors. Our team of licensed, insured, and bonded experts is committed to providing you with the highest quality roof replacement in OKC. Don't leave your home's protection to chance. Click below to schedule a consultation and take the first step towards a safer, more secure, and more beautiful home. Your roof deserves nothing but the best, and so do you.